School Hours
The doors open at 8:10am.
School begins at 8:25pm.
Dismissal times:
Half Day Preschool: 11:30am
Full Day Preschool: 2:45pm
K-2: 2:50pm
3-5: 2:55pm
6-8: 3:00pm
Half day dismissal times:
Preschool: 11:15am
K-2: 11:20am
3-5: 11:25am
6-8: 11:30am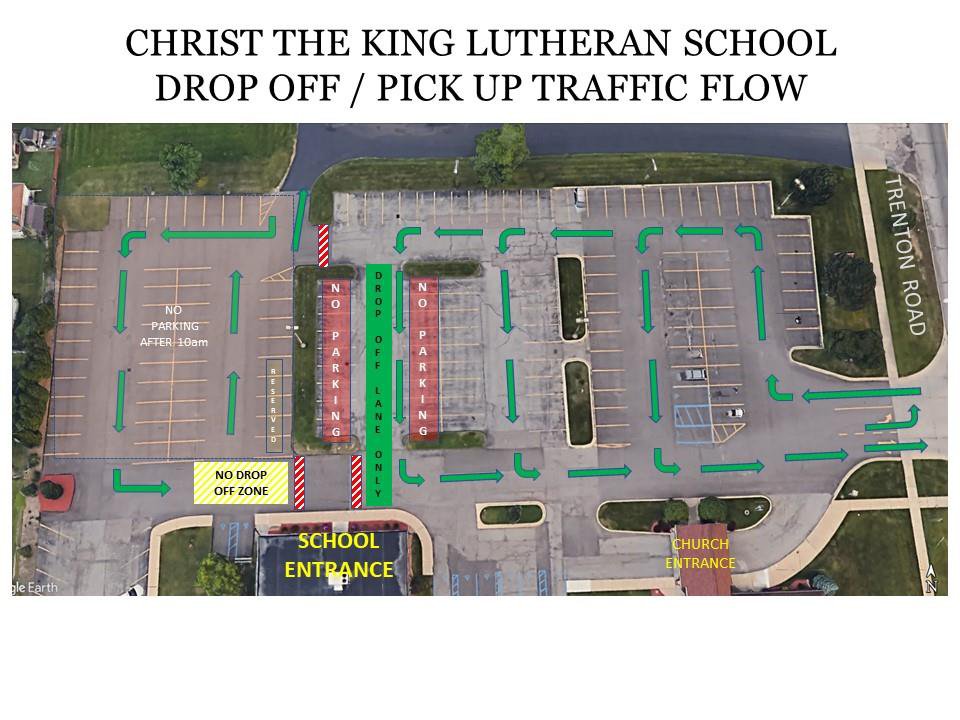 Please use the parking lot diagram for directions on the drop off lane for 1-8 grade students
Kindergarten families will use the church entrance. Please do not pull up to the door. Park your car and walk your student to the door.
The northwest corner of the lot (by Big Lots) is not a drop off lane. Please park your car.
3Pre families using the south doors should use the driveway by Davidson for two-way traffic.
The parking lot gate by the playground is closed from 7am-4pm. The parking lot gate by Big Lots is closed from 11:45am-1:30pm each day.
Preschool parents are permitted to walk their student to the classroom door. Please do not enter the classroom.
K-8 parents please remain outside for drop-off.
Doors open at 8:10am
School begins at 8:25am
If you are tardy, please come to the school entrance and bring your child to the school office.